Got the travel bug?  Well, Jennifer Spatz sure does!  Her wanderlust stems from living abroad with her family and immersing herself in many cultures as a child, due to her father's career in the foreign service.  
This upbringing has had a huge impact on the way she sees the world today. And how she helps others see the world. Spatz, now an anthropologist with a background in international development, creates experiences that help travelers forge deep connections to the places they visit and the people they meet.
Spatz owns and operates Global Family Travels, a Seattle-based travel company that specializes in tours with a big mission. Her vision is to unite humanity and inspire travelers to take responsibility for the challenges and opportunities facing our increasingly interconnected planet. The company was founded with a mission to provide authentic community-based travel experiences that help participants Learn, Serve, and Immerse. 
The goal, according to Spatz, is to foster cross-cultural understanding, destination stewardship, and better global citizens.  
"No matter where you go there are opportunities to learn about the history, culture, food, and people," she said. "When you do this, you're able to step outside your comfort zone and move aside any preconceived notions you may have had."
Whether participants embark on a one-day community adventure in the Seattle area, a customized journey, or a small group global adventure, each experience features a unique mix of cultural and educational activities, as well as a community engagement component to help make a positive impact on the lives of people and natural habitats where they visit.
As spring and summer travel in Seattle heats up, Global Family Travels is kicking off waterfront past and future tours for the season, and other local and regional tour options for visitors and locals to discover something new. With the 2022 Alaska cruise season launching in Seattle this spring, Global Family Travels is contracting with American Cruise Lines (ACL) to offer onshore excursions for passengers.
Learn, serve, immerse
Spatz started Global Family Travels in 2010 with an adventure to Northern India's Ladakh region, rooted in the Learn, Serve, and Immerse model. Once an independent Buddhist kingdom at the crossroads of vital trade routes between China and the Middle East, Ladakh is often called "Little Tibet." The tour is still offered today and supports the Siddhartha School Project, a non-profit organization that supports quality education to regional children, while to honoring and enhancing the local culture and traditions. This summer, the trip will be offered with a focus on culture and climate change issues related to the water crisis in the region.
Whether near or far, each Global Family Travels excursion benefits the local community by featuring a partnership with a local nonprofit organization. When developing a new tour, Spatz starts by interviewing people and organizations who represent the community to learn more about its mission, challenges, and what it would look like to bring visitors. If the organizations are a good fit, they collaborate on experiences that create connections to the local people, cultures, and natural beauty of the destination. Activities support the needs of locals and preserve cultural heritage and natural beauty. 
Global Family Travels tours and activities are often centered around United Nations Sustainable Development Goals, a shared blueprint for peace and prosperity for people and the planet, now and into the future. Goals include education, access to clean water, conservation, gender equality, and the preservation of diverse and indigenous cultures.
Regenerative travel and community tourism
Global Family Travels addresses a niche in the travel market that hasn't really been filled until now.
"After the pandemic, more people who are now traveling want to do so meaningfully and are looking for ways to do that," she said. "They want to travel with a conscious mind and an intent to learn about a destination."
These regenerative experiences foster conscious thought about how to give back to the communities and how to economically support small businesses and the natural environment of a destination. 
"At Global Family Travels we are looking to foster unity and cross-cultural understanding," Spatz said. "For example, when you take a tour with that supports Peruvian artisans or potato farmers, you are empowering them and uplifting them. But what about when the tour is over? Not everyone has privilege or means to travel. How will you tell the story of what you learned?  Even after the trip, your travel experience remains in photos and your mind. You can amplify that and share some of things you learned."
Ensuring that travel experiences are designed to benefit diverse communities and to intentionally improve social and environmental systems is part of the concept of regenerative tourism. It is an approach that goes beyond sustainable travel to reimagine the tourism industry's role in the communities and ecosystems on which it depends and putting the destination at the heart of the tourism experience.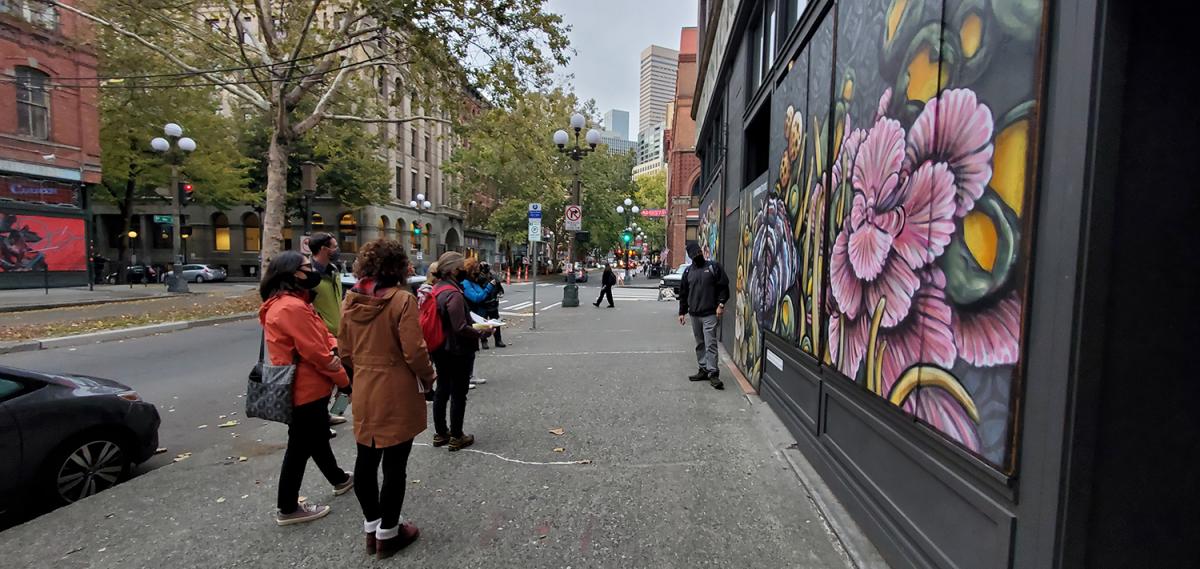 Uplifting communities
In 2017, Spatz brought this concept of socially conscious travel to the Seattle area when she founded the Seattle chapter of Impact Travel Alliance with a mission to educate travelers about sustainable and community tourism. In 2018, the group welcomed guests from the Peace Boat, a Japan-based, international nonprofit organization which promotes peace, human rights, and sustainability. When the ship made a stop in Seattle, Spatz helped curate excursions and events that fit the group's mission.
Shortly thereafter, she began running Seattle tours under Global Family Travels. After the pandemic hit in March 2020, she worked with Western Washington University students to figure out how to address the challenges of racial injustice and inequities exacerbated by COVID-19. Spatz focused on creating one-day community-based tours in partnership with nonprofit partners, geared toward locals who were not able to travel during the pandemic. These new tours partner with Seattle area non-profits to address social issues and support local communities and businesses through unique stories and perspectives and engaging activities.
"We wanted to bring locals meaningful adventures in their own backyard," she said. "When we develop these experiences, we look at what is unique, and how to tell the story of American culture in underrepresented communities."  This entails working with diverse communities who are interested in sharing their cultural heritage, collective memories, as well as environmental and historical perspectives in the destination.
Learning local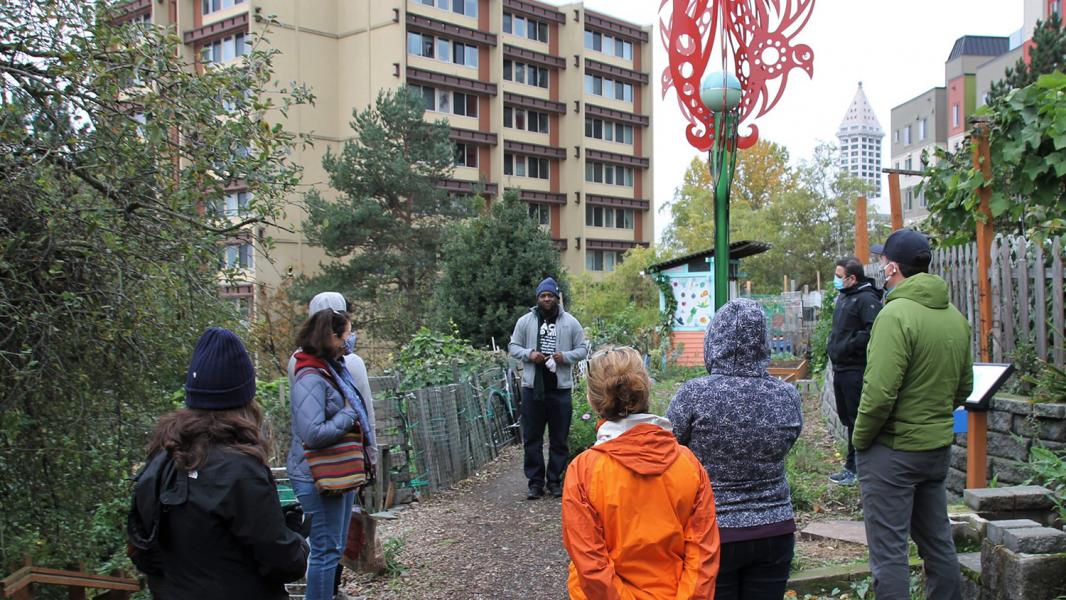 Rather than acting as a standard tour operator, Global Family Travels focuses on building relationships, creating experiences, and telling stories to help people learn about challenges through different perspectives.
Here is a sampling of the Seattle-based tours:
Street Hues: Seattle Urban Art Tour 
Created in partnership with 206 Zulu, Experience Education, and Urbanists, this tour explores the varied street art in the Capital Hill neighborhood, from graffiti, tags, and "sticker bombs" to elaborate spray paint, brush work, and stencil pieces, while guides address topics such as ownership, power, and identity in public art. Learn more>
The Power of Community Gardens with the Black Farmers Collective
This enriching community experience at YES Farm, located in a historic part of Seattle near Yesler Terrace, offers a powerful way to learn how the Black Farmers Collective has developed some creative solutions to growing food and building community. Learn more>
Waterfront Past and Future: An Ever-evolving Shoreline
In partnership with the HistoryLink, this tour explores the history, communities and parks that make up Seattle's Waterfront, while learning some history along the way! Learn more>
Learning regional
This spring and summer, Spatz is looking forward to adding multiday tours that combine the energy of Seattle with the beauty of surrounding areas, like the San Juan Islands or the Olympic Peninsula.
Olympic Peninsula:  Learn, Serve, and Immerse in support of Salmon Habitat  
One upcoming tour introduces participants to the beauty of the North Olympic Peninsula while learning about salmon habitat recovery and cultural traditions of the Jamestown S'Klallam tribe, while staying at their beautiful hotel, 7 Cedars. Learn more>  
Oregon: Regenerate Forests and Communities from Wildfires
Lace up your boots and hit the trails of the Willamette National Forest in the Cascade Mountain Range of Oregon to learn about wildfire recovery and prevention and help with trail building projects. Learn more>
https://www.portseattle.org/blog/regenerative-travel-company-unites-travelers-and-communities