RAMSTEIN AIR BASE, Germany — Sewing machines whirred in a chapel annex on Ramstein Air Base Thursday as a dozen volunteers stitched together prayer garments for Afghan women.
"They weren't able to bring more than what they're wearing when they fled Kabul," said Elizabeth Chambers, who launched the sewing group days earlier after seeing a request on social media for someone to turn donated bed sheets into clothing the evacuees wear to pray.
"We watched a couple of videos and tutorials online, and I made a pattern to turn a queen-size sheet into a matching skirt and khimar," a garment that covers the head and arm, Chambers said.
Three days after launching the group, the women had sewn 102 khimars, 76 other head coverings, 20 full-length prayer skirts, nine dresses and 13 prayer mats, give or take a few, she said.
All have been distributed to the evacuees by the base's imam and his wife, who have reported back that the Afghan women are "grateful to have something" after wearing old T-shirts as head coverings and praying on dirty cardboard, she said.
"I'm just helping in a way that I could … sewing is something I'm good at, I'm fast at and I could start right away," Chambers said.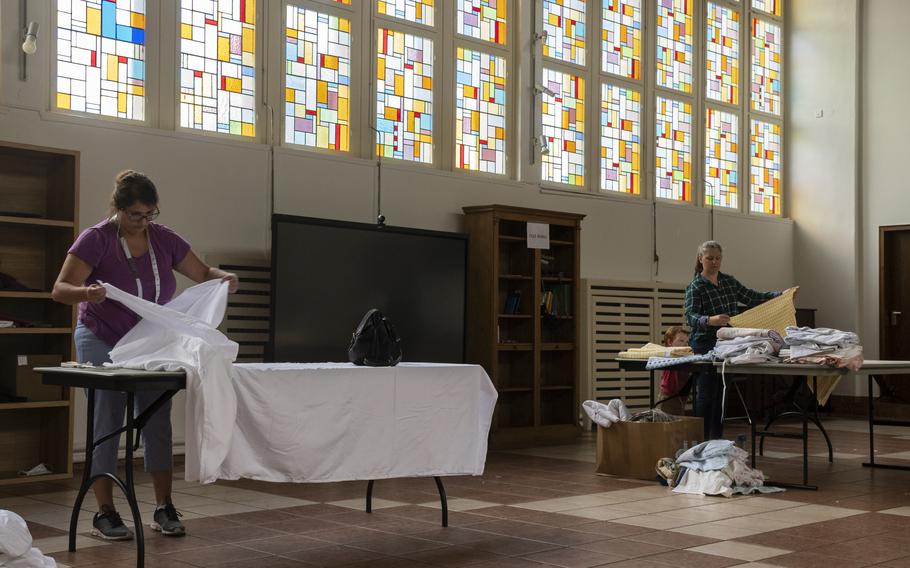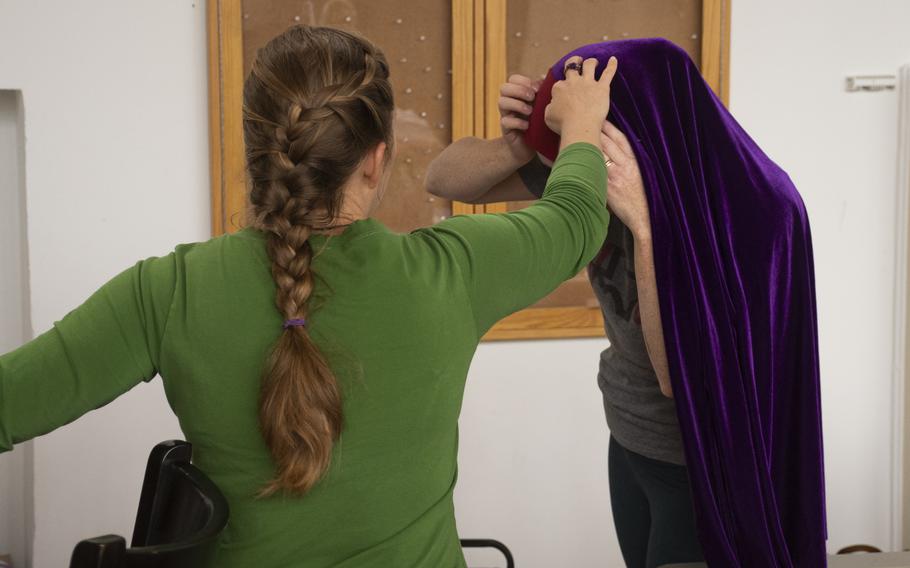 Nearby, in what used to be the base movie theater, Master Sgt. Mitch Meis checked box after box of items that had been dropped off Thursday, making sure that the items inside were needed, clean and in good shape. There was clothing, baby items, toys, and lots of blankets, much-needed to help the thousands of evacuees who have arrived at Ramstein since Saturday deal with the cool German weather after Afghanistan's searing heat.
Volunteers took the donations to the large room that used to house cinema seating and a movie screen, where dozens more people sorted and placed them in plastic bags according to size, gender and what the items were.
"This is a centralized hub that agencies like the USO and others can come to and get what they need to help the evacuees," said Heather Mecsko, who has been assisting with logistics at the intake site since Saturday, when she came to drop off some items for the evacuees herself.
Back then, less than a week ago, donations for the evacuees were being accepted, sorted and distributed at a more artisanal level by Ramstein first sergeants, in a much smaller building, where volunteers would show up after hearing of the effort by word of mouth.
"The guy taking the donations was wiped out and I thought we needed to do something," Mecsko said.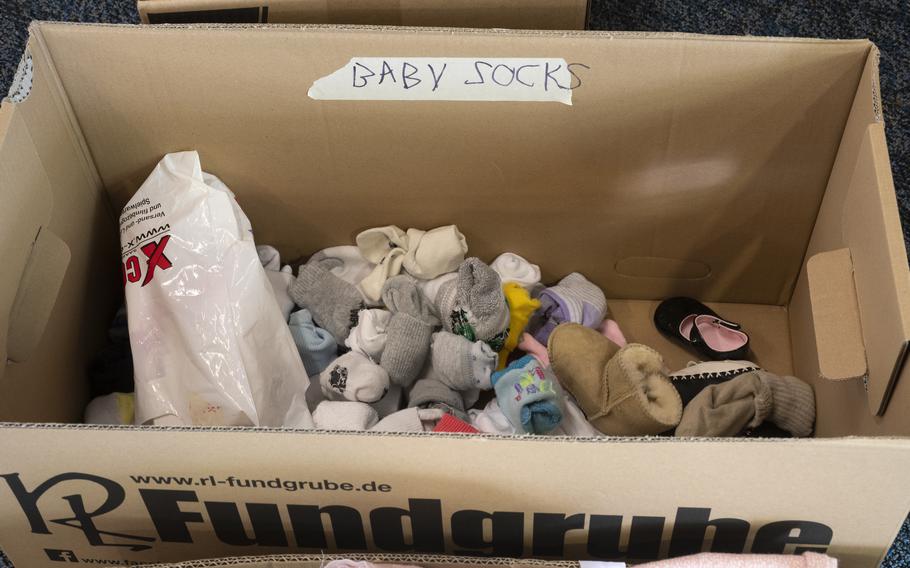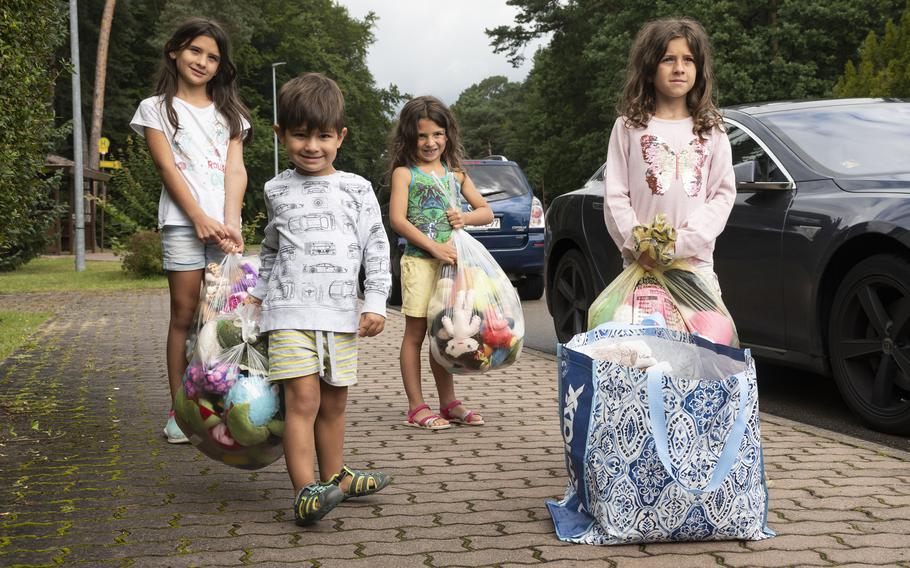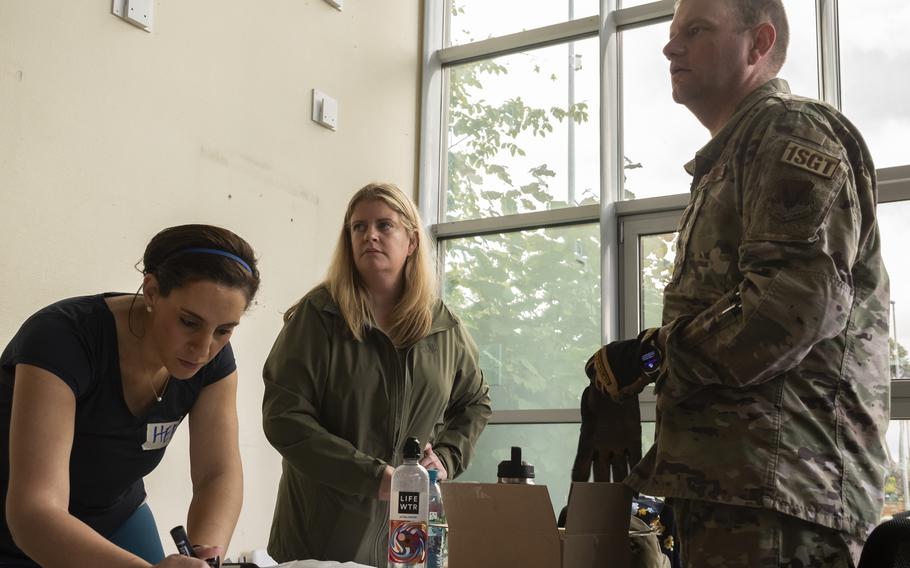 A few phone calls later, the alliesrefuge.org website had been set up, where people can see what the evacuees need and where volunteers are required. From there, the operation mushroomed into the effort it is now, with 200 people volunteering at the intake site every day, sorting through truckloads of donations, which are distributed at other sites around Ramstein.
Smaller-scale operations have been stood up at other U.S. installations in Europe, including Naval Support Activity Sigonella in Italy, which has taken in 662 evacuees since Sunday. While that's a small fraction of the 14,500 who have arrived at Ramstein since last weekend, the effort at Sigonella and other installations has been as energetic as at the Air Force base in Germany.
NSA Naples has gathered enough diapers, wipes, toothpaste, shampoo, crayons, coloring books, clothing and other items to fill six pallets to send to Sigonella.
On Thursday, around a dozen volunteers were working at the chapel on NSA Naples' Gricignano di Aversa site to sort and pack donations. Shoes were in high demand as many Afghan children have arrived in Europe barefoot, said Cmdr. Gary Foshee, NSA Naples' command chaplain.
In Ramstein, a call went out one morning this week for stuffed animals to give to the children before they left to fly to their new homes in the U.S. Within an hour, so many teddy bears and other cuddly toys had been donated that a second call was posted on social media to say they weren't accepting any more for the time being.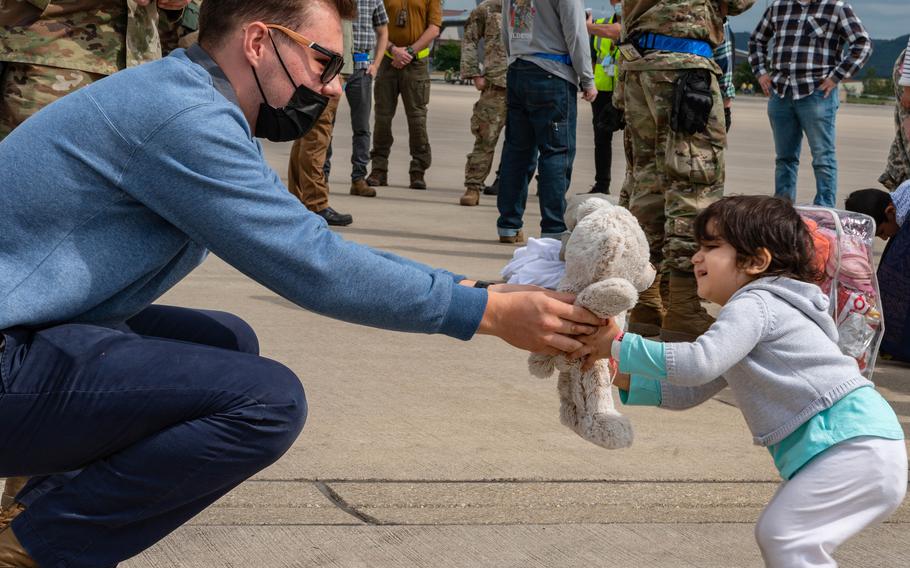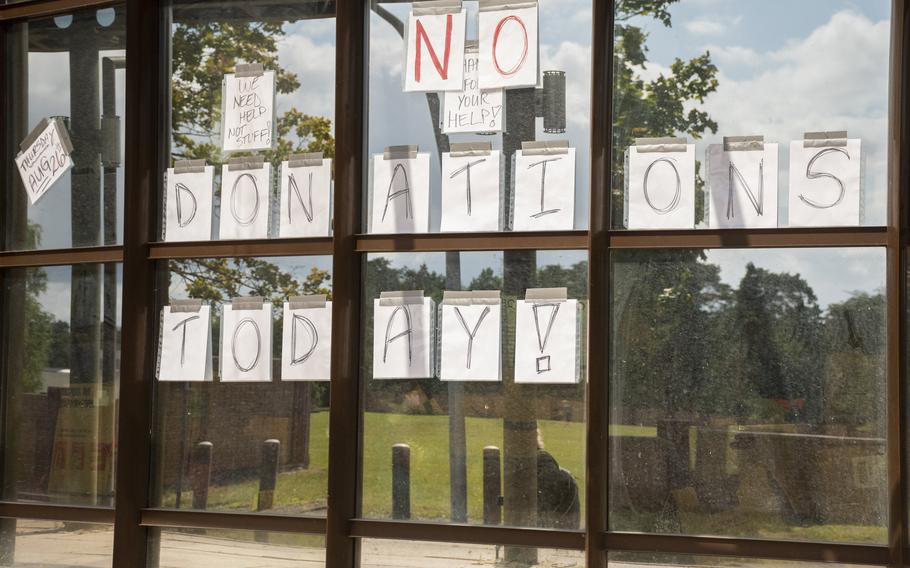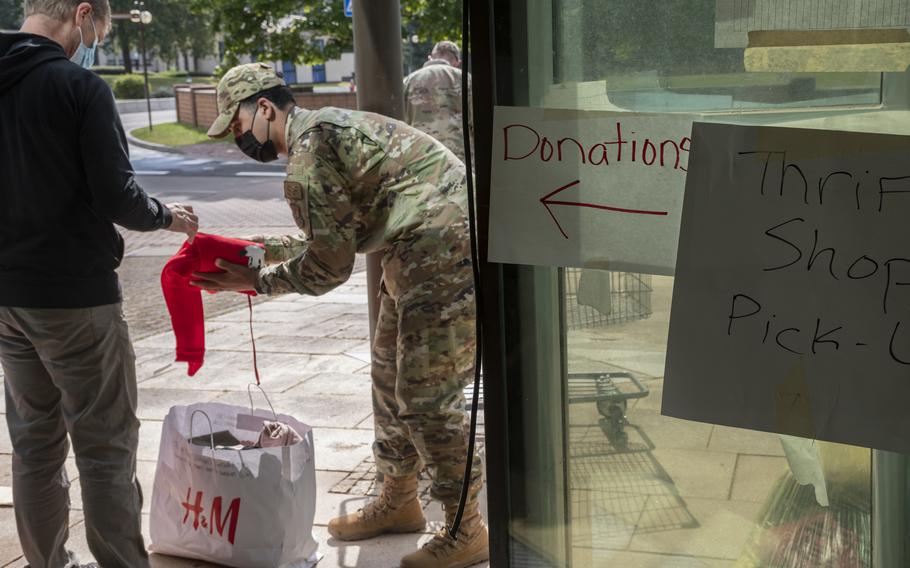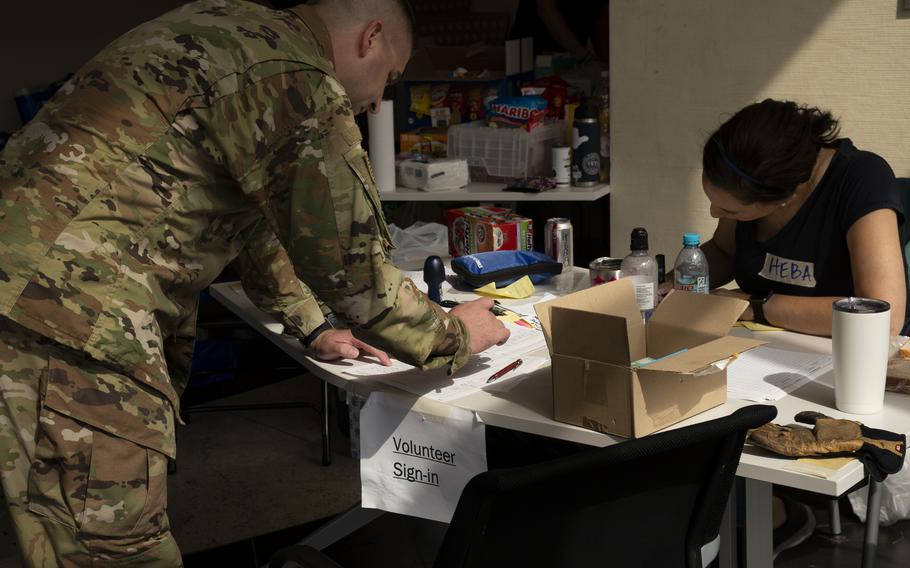 But the effort for the evacuees continued unabated, with more and more people chipping in — like the woman at Ramstein's commissary who brought lunch to the volunteers at the old movie theater, or "people who are about to PCS out that are spending their last few hours here, doing what they can to help," Mecsko said.
"We're motivated by the Afghan children and their families," she said. "They didn't ask for this but they're stuck in the middle of something that shouldn't have happened, and we want to help them the best we can.
"And we'll be here for as long as they need us."
Stars and Stripes reporter Alison Bath contributed to this report.
https://www.stripes.com/theaters/europe/2021-08-26/ramstein-sigonella-naples-us-military-volunteers-afghanistan-evacuees-2676074.html